Staff
« Back to Staff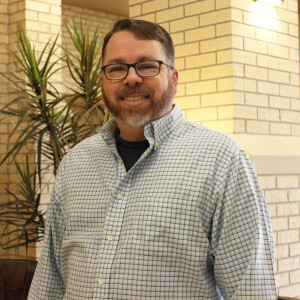 I have had the privilege of being at FBC Marlow since February 2008. I have been able to serve in the capacity of Student Pastor until August 2012, and now serve as LIFE Pastor. My wife is a 4th grade teacher and we have two teenagers which are causing my hair to change colors faster than I ever could have imagined.
At the age of 8 I responded to the LORD's call of salvation and chose Him as my LORD. That journey of faith has been difficult at times due to my stubbornness and selfishness. As a sophomore in high school, I surrendered my life to do "whatever the LORD leads me to do" and that is still my call of ministry. While a sophomore in college I began serving in the church as a student pastor. I have served in two churches prior.
My heart's desire is to honor the LORD and help people know Him as Savior and LORD. I desire to help people grow as they follow Jesus, and become more like Him. My motto in ministry is "People don't care what you know until they know you care." What you need to know is that YOU MATTER. You are special and God loves you. He has a plan for you if you will let Him lead you. My job is to help you along this journey. My prayer is that we will grow closer to the LORD Jesus and make Him known to the nations and all peoples.